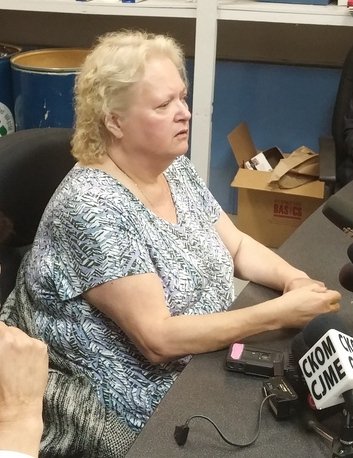 Substitute teacher Charlene Klyne shares the story of being shot during the La Loche school shooting.  Photo by Joel Willick
Months after the tragic school shooting in La Loche, one victim is sharing her story and the struggles she has gone through.
On January 22, a then 17 year-old boy shot and killed 4 people in the La Loche school and community. Seven more were injured. The matter is still before the courts.
Charlene Klyne, a substitute teacher, was shot in the upper body on that tragic day.
In front of a room full of reporters in Saskatoon on Wednesday afternoon she recounted the moment her life change forever.
"I saw this movement and I looked to see him raise the gun and fire it and all I can think is I'm dead," said Klyne. "Now I am shot…and I am thinking god this hurts and then I realize I am not dead, but my arm burned, my chest was burning, my neck, my face and I couldn't see."
Klyne lost her eyesight because of the incident. She cannot see anything out of her left eye and only shadows out of her right eye.
"I have not seen my family in many days…months," she said.
Klyne has already had several surgeries and may need several more. She hopes one day to get her vision back, but says she is taking that day by day.
According to Klyne after she was shot Marie Janvier went to get help. Unfortunately, moments later Janvier was shot and killed herself.
"She was a friend and neighbour," said Klyne when speaking about the well-beloved teacher's aide. "She would have made the most wonderful teacher and unfortunately she won't be able to do that."
8 months removed from the tragedy Klyne is now calling on the provincial government and other organizations to provide more supports for the victims and their families.
"We were promised that we would be getting help and so far the little bit of help we have been given is like being victimized over and over again," she said. "The government, school division and other organizations need to get together to help us. I know this is the first time something like this has happened in Saskatchewan, but wee need assistance, we need to not have to beg. We didn't ask for this to happen, believe me if I could've ran I would have."
Klyne is receiving $360 dollars every two weeks from the Worker's Compensation Board.
"I understand that this is based off what I made, but I can't go back to work," she said.
Klyne and her family have since moved to Saskatoon to be closer to the medical supports she needs, but says they still continue to suffer financially.
Klyne says she reached out to northern Saskatchewan MLA and NDP Deputy Leader Buckley Belanger to help get her story out.
"It's heartbreaking and frustrating hearing stories from members of the La Loche community who feel like they are still tied to the tragic events because they aren't getting the help they need," said Belanger. "There were a lot of kind words said and promises made in the days following the tragedy. It's long past time for the Sask. Party to step up and give the proper supports."
According to Belanger, Charlene Klyne is speaking on the behalf of 3 other victims and their families.
Premier Brad Wall and other ministers were in La Loche recently announcing several supports to the community.