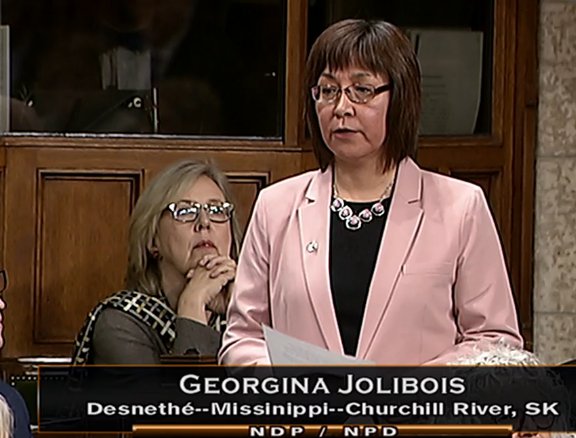 Northern Saskatchewan's Georgina Jolibois says her first parliamentary session in Ottawa has been a tough one.
The La Loche shooting took place only months after she was elected to represent Desnethe-Missinipi Churchill River for the NDP.
"The incident in January has made the journey a little more painful in working in Ottawa, bringing issues forth around mental health and community safety," she said.
Locally, there's been some tension with La Loche's current mayor Kevin Janvier, who says the province has stepped up in the wake of those events. In an open letter to the media earlier this month, he invited Jolibois to meet with town council to discuss issues she had recently raised.
In response to that, Jolibois said she was key in creating working groups with the provincial government, municipality and reserves on topics like health, education, and infrastructure.
"Those working groups were in session already, were meeting already, and I had been part of those meetings already," she said.
In her view, Janvier was referencing improvements made in groups that aren't specific to mental health support.
While those things are good, they are also "small and inadequate because these initiatives the he's talking about are information based, they're not necessarily mental health where people can go and talk to someone for assistance," Jolibois said.
Other topics have gotten Jolibois' attention. She points to job losses through the closure of Cameco's Rabbit Lake mine and the Buffalo Narrows Correctional Centre.
They are countered in part by funding for Canada Summer Jobs for students, but not entirely," she said.
"How is a family expected to raise a family when they're on employment insurance or social assistance? Northerners want to be employed and they should have a chance to do so."
However, Jolibois said there have also been positive lessons from her time in Ottawa.
She's seen movement on Aboriginal interests like the United Nations Declaration of Rights for Indigenous People, the Truth and Reconciliation Commission recommendations, and the MMIW Inquiry.
"Now is the time for our voice, for our northern voice to gain strength and for our files to move forward," she said.
This summer she'll be in the community with a number of cultural festivals to attend and focus groups on electoral reform.